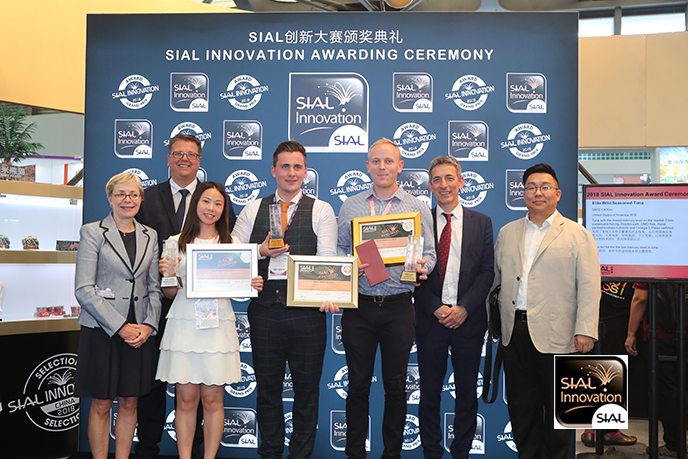 SIAL innovation, food trend and innovations (E3)
SIAL Innovation, well known as the crown jewel of SIAL Network, shined in SIAL China each year. It aims to:

Discover the most innovative food products provided by SIAL CHINA exhibitors

Analyse consumer trends and new products in the Asian agri-food market



So meet us in the SIAL Innovation area: a unique global food innovation observatory developed in partnership with XTC World Innovation.
SIAL Innovation 2019

The operation is reserved to exhibitors (individual or members of a group that has signed up as registered exhibitors) at SIAL China 2019, who may present one or more products , each of whom must comply with following criteira:
Must provide an edible food product for the food processing industry;

Must make sure the product has been created or released to market after May 2018;

All participants should declare and guarantee that they own the intellectual property rights relating to the product presented or, have been duly authorized by the owner of the intellctual property rights relating to the presented product for the competition;


Partcipants shall guarantee that their products comply with the legislation of original country or the country in which they are transcted.
The selection comittee made of expert professionals in innovation and food industry will deliberate from January to April. We will keep you informed of their decision by email.

Time
Registration for SIAL Innovation has opened (from 17th Jan)!
The deadline will be on 5th April, 2019.

The Jury
They are comprised by an independent jury of experts from food industry worldwide:
shall examine the innovatinve qualities specific to products, even if they are not finalized (test to launch phase);

shall judge as a priority the relevance of whatever new benefit the product offers the consumer/ or the industry (merchandising, packaging, recipe, technology, etc.);

shall award top prizes to the products that they considered as the most innovative of all the products selected;

they are the sole parties authorized to determine whether or not to select the products presented for the operation; their decision shall be the final.
Why to apply
Strongly increased visibility. Over 120,000 visitors wil join SIAL China in 2019;

Showcase product on every SIAL network event all over the world; New Delhi, Jakarta, Abu Dhabi and Montreal (for awarded products only);

Domestic and international promotion; media coverage before, during and after the exhibition;

You are granted the full rights to use the SIAL Innovation 2019 logo free of charge to promote your product.

How to apply

Log in "

Exhibitor Online Area

"

with Exhibitor ID and password;

Click SIAL Innovation Logo;

Choose your language;

Fill out the form;

You will be contacted shortly for following-up with you.



SIAL Innovation 2018

In 2018, the SIAL Innovation located in Hall E3 to showcase the top 10 latest food and beverage exhibits which were drawn from 164 selected innovative products. The 10 Finalist products and 3 Awards for Gold / Silver / Bronze Award were announced.
SIAL Innovation 2018 Grand Awards