Global alcohol consumption grew last year, however, new IWSR research forecasts that Covid-19 will push 2019 volume gains back by 5 years.
Though worldwide beverage alcohol volume increased slightly in 2019, reversing declines from the year prior, it will likely be five years before the global industry rebounds from the ongoing Covid-19 crisis.
Total global alcohol consumption, led by increases in beer and ready-to-drink products, grew by +0.1% in volume and +3.6% in value in 2019. However, losses incurred in the months-long near complete shutdown of bars and restaurants across the world this year, has not been offset by upticks of beverage alcohol sales in retail and ecommerce channels. IWSR expects this to lead to double-digit declines in 2020, and estimates it will take until 2024 to reach 2019 pre-Covid-19 levels. Global travel retail, severely affected by widespread travel restrictions, will see a particularly harsh decline in 2020 but is expected to reach pre-crisis levels by 2024.
"While we're still assessing the full impact of the current Covid-19 situation, it's very clear that the pandemic is set to cause a deeper and more long-lasting after-effect to the global drinks industry than anything we've experienced before. Even the downturn following the 2008 financial crisis was less severe than what we are seeing now," says Mark Meek, CEO of IWSR. "In many ways, 2019 was perhaps the last 'normal' year for the drinks industry."
As restrictions ease, long term recovery is expected to be slower than the initial bounceback – driving a "Nike Swoosh" rebound shape. As shown in the illustration below, the downturn following the 2008 financial crisis was less severe than what we are seeing now.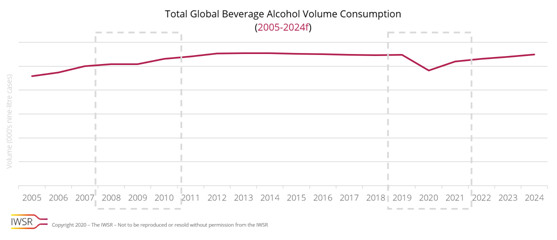 Globally, beer (not including flavoured malt beverages like hard seltzers) grew in both volume and value in 2019, led particularly by increases in non-alcoholic beer. Though the beer category has taken a hit in 2020, the category is expected to reach 2019 volumes by 2024, rebounding better than wine and spirits.
The long-term global decreases in wine consumption continued in 2019. In the key consuming region of North West Europe, wine volumes have been slowing in recent years, and in the US, wine consumption last year declined for the first time in 25 years. One bright spot in the category, however, is sparkling wine, which is forecasted to rebound stronger than still wine by 2024, as consumers increasingly shift to year-round consumption of these products.
Steep volume losses in baijiu are the main contributor to an overall drop in global spirits volume consumption in 2019. However, excluding baijiu, the spirits market grew +1.0% in 2019 vs 2018 by volume, and should recover to 2019 volumes by 2024. Interestingly, even though volume consumption of baijiu declined in 2019, its value in China is still greater than the value of the entire spirits market outside of the Asia Pacific region.
No-alcohol spirits were the fastest-growing spirits segment by volume in 2019, though still small in terms of market share. Amongst traditional spirits categories, gin was the fastest growing in 2019, but that growth has slowed somewhat as consumers are beginning to show signs of "gin fatigue," especially in some European markets.
For the third consecutive year, ready-to-drink (RTD) products in 2019 were the fastest growing beverage alcohol category. Even though RTDs only represent a small slice of beverage alcohol market share, they contributed more than double the value growth to the industry than wine in 2019. Much of this interest and growth in the category is fuelled by the innovation and convenience of hard seltzers in the US. In other markets innovation, affordability, refreshment, convenience and youth appeal have contributed to sales growth.
"As restrictions ease, long term recovery is expected to be slower than the initial bounce back – driving a 'Nike Swoosh' rebound shape," remarks Meek. "Like many other industries, it's incredible how a few months of lockdown will result in several years of recovery, but beverage alcohol has proven to be remarkably resilient in previous downturns, and this should be no different. A strong focus on innovation, premiumisation, and new routes to market such as ecommerce, are all factors which will help contribute to the industry's rebound and future growth."