SIAL China, the largest food innovation exhibition in Asia will be held from May 14th to May 16th, 2019, in Shanghai, China. With an estimated 4,300 exhibitors and 112,000 professionals expected to attend this year's exhibition, SIAL China will provide food professionals with a unique platform for exchange and business opportunities with Asian markets.
In 2018, 28% of all international exhibitors and 62% of international visitors at SIAL China came from Asia, a key region for SIAL China organizers who have actively conducted promotional activities, including an upcoming series of press conferences to be held February 27th in Thailand, February 28th in Malaysia, March 1st in Singapore, and March 5th in South Korea.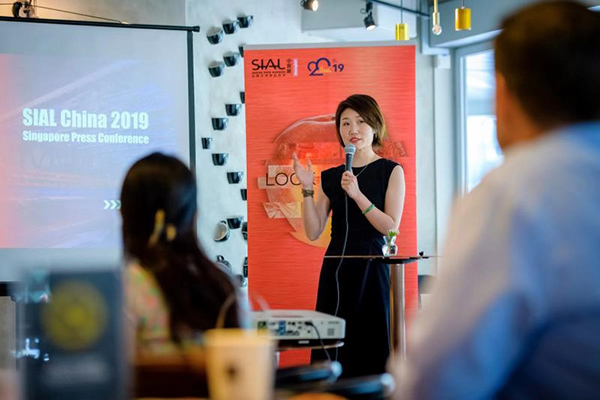 Asia's Dynamic Food Landscape
How and what people consume in Asia is being impacted on a daily basis by technological innovation and a growing middle class. In 2018, cross border e-commerce trade was up 50% , which accompanied with advanced logistics and online shopping platforms helped Chinese consumers access and develop a taste for exotic food and beverages including fruit, seafood, and local specialty products which have traditionally been less commonplace on Chinese tables. Meanwhile, in Asia Pacific, 63% of consumers view their mobile phones as their most important shopping tool.

At the same time, Asia's middle class has grown significantly giving them financial access to imported goods. According to a 2017 study by the Brookings Institution, 88% of the next one billion people to enter the middle class globally will be from Asia, and by 2030 Asia's middle class is expected to reach nearly 3.5 billion people or 65% of the world's total.

"Whether your objective is to understand more about the dynamic Asian market, or introduce products to world visitors, through our professional events, online match-making system, and marketing events, SIAL China is a convenient and effective way to start a dialogue with your target customers and partners." Said Mr. Jim Liu, President of SIAL China.




Opportunities with Asian Markets

At SIAL China 2018, all Asian countries experienced stable and steady expansion. South Korea was among the top 10 countries in terms of pavilions floor space and the number of exhibitors, while Japan increased its presence significantly. In terms of professional visitors, Korea, Japan, Thailand, Malaysia, Singapore, and Indonesia were all one of the top 10 international countries.

Exhibitors and professional communities from Asian countries and regions have been active participants in SIAL China signature events like SIAL Innovation, a presentation of the world's most innovative food products. In 2018, products submissions from Sappe Public Company Limited of Thailand and Hsu Sheng Food Enterprise Co., LTD., from Taiwan region, were both SIAL Innovation finalists.




At La Cusine, a demonstration area dedicated to foodservice professionals, chefs from South Korea, Malaysia, and the region of Hong Kong showcased their impressive skills and creativity. While leading players like Pran Export from Bangladesh; Al-Faheem Meatex Pvt. Ltd., Allanasons Pvt. Ltd. and HMA Argo Industries Ltd. from India; Chek Hup and White Coffee from Malaysia; Super Group from Singapore; SunHae from South Korea; the Sri Lanka Tea Board; Sappe and Malee Group from Thailand; and Me Trang from Vietnam led the way with impressive exhibitor performances.

Asia's dynamic food landscape is significantly boosting intra-regional food trade. In 2016, 36% of all food imports in Asia came from other Asian countries, according to The Economist. At SIAL China 2019 the Asia Zone will be expanded to Hall E1, E2, and E3.