The sparkling water category may seem crowded with products made by CPG giants and offerings from smaller, independently-owned brands, but the reality is that sparkling water is still just a small piece of the overall carbonated beverage category, says Nicole Bernard Dawes, founder of Nixie Sparkling Water.
"
It's only crowded because it's not getting a proportionate share of the aisle yet,
" Dawes told FoodNavigator-USA.
"
If you look at the $30bn carbonated beverage set, sparkling water is still just a tiny fraction of that, but it's the fastest growing.
"
Dawes who is undeterred by the meteoric success of other relative newcomers to the sparkling water category such as Waterloo and Spindrift, believes there is always room for another great brand and option for consumers.
"
I think every popular category through the history of time is going to be crowded. I think there's room for a lot of great brands in this set, and the way I see it is that the sparkling water category is still in its infancy,
" she said.
Since launching at the end of 2019, Nixie has become the fastest-growing and #4 sparkling water brand in natural sparkling water category, growing 1100% in 52 weeks and 616% in the last 24 weeks (according to recent SPINS sales data provided by Nixie for brands over $100,000 in sales).
Dawes has years of experience building strong brands in seemingly crowded categories with wellness-focused products. As the founder of natural snacking company, Late July, Dawes helped grow the natural, organic snacking set.
"
I believe that the wellness shopper is future of the grocery store. And with Late July, our strategy was to create delicious products, people would fall in love with them, and then through that we help create change, and grow organic,
" said Dawes.
"
I saw an opportunity to bring the same mission and philosophy to sparkling water set.
"
Nixie, said Dawes, checks all the boxes for wellness consumers with non-GMO, certified organic, and BPA-free lined cans credentials.
"The most important thing about our products is taste, which I think is the most important thing to driving velocity. We spent an entire year developing our flavors," she said.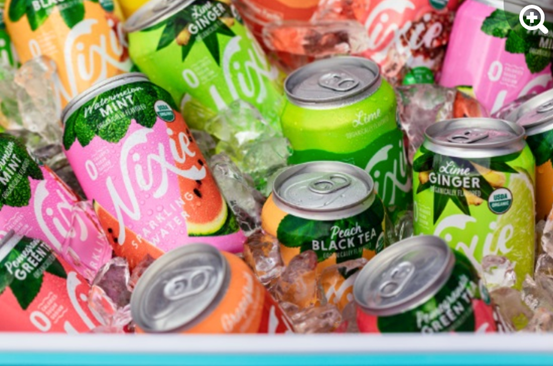 Pic: Nixie Sparkling Water
Nixie launched into the market last year with a line of seven different flavors including 'signature flavors': Lime Ginger and Watermelon Mint. Other core flavors include grapefruit, lime and lemon, as well as lightly-caffeinated peach black tea and pomegranate green tea.
Retailer relationships come first
As a new brand entering retail at the height of the pandemic, Dawes and her team were more focused on supplying their retailers with enough product than completely pivoting their business model to DTC to reach a new audience of home-bound consumers.
"
One of the things that we felt was our best way to support our growth, was to work incredibly hard to keep our product on the shelf. I think the reason why Late July was so successful was because of the relationships we built with our retailers over decades,
" she said.
"
In a normal world, we would have been doing a lot more consumer interaction.
"
Despite the absence of sampling, Nixie still managed to get products into 5,000 retail accounts where the brand pushes for both ambient shelf placement and merchandising in the refrigerated single-serve grab and go section.
With a solid retail base in place, Nixie entered into its next wave of expansion earlier this month. Its latest distribution includes expansion from three to six Whole Foods Market regions, and the addition of Natural Grocers Vitamin Cottage, Walmart's Southeast Coast, and Albertson's/Safeway Southern & Mid-Atlantic Divisions.
"
The changes I see coming to the beverage aisle makes me very excited,
" Dawes added, who hopes that sparkling water can replace the sugary sodas and drinks for many more consumers.
Interested in functional beverage trends? Sign up for FoodNavigator-USA's FREE webinar on March 17.