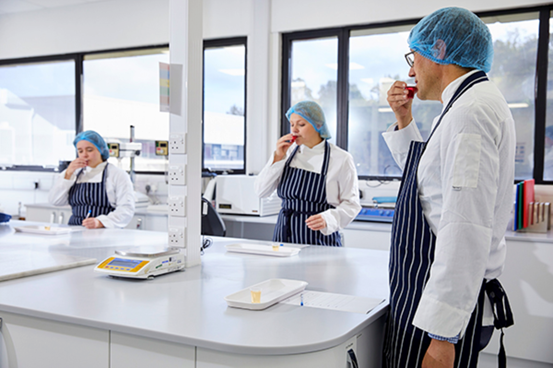 Replacing sugar with alternative ingredients may not be new, but it remains a driving force in product development. Dr David Neville - Senior Associate Principal Scientist and Maud Silvent - Senior Scientist, within the Functional Ingredients department at Reading Scientific Services Ltd (RSSL) explain the value of analytics in terms of shaping reformulation efforts and navigating the challenges of new raw materials.
The focus on sugar reduction shows no signs of slowing. Better informed consumers, government initiatives and high-profile media coverage have all helped to keep the issue firmly on the industry agenda. With the COVID-19 pandemic further amplifying the importance of a balanced diet, manufacturers are understandably keen to capitalise on growing consumer demand for healthier products - and sugar reduction is top of mind.
In this context, the use of plant fibres as sugar replacers is proving particularly popular. Polysaccharides such as pectin, cellulose, hemi-cellulose, as well as gums and modified soluble corn fibres are widely available and gaining traction. Pectins and gums are well established providing mouthfeel in some sugar-free applications. In addition, inulin and other fructo-oligosaccharides are well established as alternatives for the product developer to use, alongside other ingredients such as polydextrose, polyols and other soluble fibres. All of these ensure that there are many options for the team to consider. The landscape is becoming ever more diverse as suppliers move to create a commercial advantage by fractionating the plant-derived materials into more defined ingredients that may have improved functionality. These products - together with obtaining EU Novel Food approval for new ingredients - offer a genuine point of difference in an increasingly competitive marketplace.
Yet, although this undoubtedly presents exciting opportunities for manufacturers to reformulate existing products or create a new, low sugar concept, it also demands a clear understanding of how the chosen ingredient will perform during each stage of the manufacturing process, as well as in the final product itself. And this is where analytical testing comes into play.
One of the most fundamental requirements of analytical testing is the provision of nutritional values. Breaking the content down into established nutrient categories has long been an important part of product development, as well as a regulatory labelling requirement. Traditionally, this involves analysing a food sample for protein, moisture, fat and ash, with the rest deemed to be carbohydrate. In other words, the carbohydrate portion can be calculated by simple subtraction rather than analysis, which is then multiplied by a conversion factor to give its calorific value. Some companies opt to analyse the 'sugar' content of their foods, using a separate test, to ensure meaningful data is provided on pack.
However, the standard nutritional test is arguably no longer fully fit for purpose due to scientific advances - both in terms of ingredient technology and analytical methods. Polyols, such as sorbitol, xylitol and erythritol, for example, have a lower calorific value compared to sugar so need to be evaluated as a separate entity. Similarly, fibre content should be defined separately to reflect the fact that it doesn't behave in the same way as other carbohydrates; rather than breaking down into simple sugar molecules it can pass through the body undigested by human enzymes, so generally doesn't contribute to overall calorific content. Plus, by expanding the nutrition test to highlight the presence of fibre, a product label will benefit from having a stronger health and wellness standpoint. However, there are different fibre tests that impart different information, and RSSL can advise on the best methods to ensure correct classification, nutritional information and regulatory requirements. It is becoming increasingly popular to include fibre as part of nutritional labelling, and higher fibre products are perceived as having a health benefit.
By using more sophisticated analytical techniques to break down the carbohydrate element into its various constituent parts, RSSL is able to provide a more detailed picture of a product's nutritional composition. Data can then be used as part of the overall development process and support ambitions to make a more positive nutrition label or front-of-pack product claim for sugar reduction. Not only that, our tailored investigations are also able to answer fundamental questions regarding how using a sugar replacer will impact other key parameters such as product taste, texture and shelf life. After all, achieving the desired sugar reduction target will be a short-lived success if the consumer doesn't buy the final product.
So, what does this look like in practice?
In our experience, the push to reduce sugar content is common across food categories but that's not to say there are not significant differences in terms of the analytical challenges involved. For example, sugars analysis of liquid products may be relatively simple, just dilute, filter and analyse. However, for solid matrices, quantitative extraction of the compounds of interest must be proven, and then, for both liquids and solids, the method must be optimised such that any other compounds extracted do not interfere with the analysis of the sugars.
Whatever the application, it is the role of analytics to provide evidence-based answers to key questions. Information which is then used to help shape the direction of a sugar replacement project. For example, do the product properties stay the same throughout shelf life? How are stability and texture affected? Are there implications in terms of the product processability, e.g., viscosity, water-binding, behaviour under shear, etc.? And so on.
However, it is also important to note that this is not a case of 'one size fits all'. For many of these fibres, there are no routine analytical methods available because polysaccharides, by their nature, are a heterogeneous mix of different monosaccharide components. This means that compared to starch - which can be broken down into glucose and analysed relatively easily - polysaccharides are not straightforward. That's why RSSL doesn't just carry out all the relevant analytical tests, we also advise on the most appropriate testing strategy to provide the information required.
Beyond product reformulation, there is an equally important role for analytics in the context of evaluating raw materials; particularly, in view of the new sugar replacers and novel ingredients that continue to arrive on the market. Again, this often requires a bespoke approach. Standard analytical methods and equipment used to test for sugar and fibre are simply not robust enough. That's why RSSL frequently develops new analytical methods that are specifically designed around the product in question or uses a careful combination of different methods which work cumulatively to provide the required data. Raw materials should be consistent, and with defined specifications, to ensure that their use in food products is reproducible. Raw material consistency is a requirement for novel foods submission.
Either way, every analytical project starts with building a solid understanding of exactly what the customer needs to know. This may focus on application potential, such as whether you can use the polysaccharide in different food matrices and how its stability is affected. Or, the brief may extend to examining what happens during different manufacturing processes. For example, does heat or acid cause the polysaccharide to degrade and lose some of its fibre contribution. This is an area that remains challenging, despite polysaccharides being the subject of extensive research for several years and requires the significant depth of analytical knowledge provided by RSSL.
Given the level of interest in reducing sugar intake, this looks set to remain a key focus for innovation. For those companies looking to capitalise on this exciting opportunity, having access to reliable and robust analytical data designed to support R&D efforts is a vital stage in the journey to successful market entry. So, whether the goal is a successful novel foods submission, demonstrating consistent product quality or creating a consumer-winning reduced or low sugar concept, RSSL's expert and knowledgeable analytical team has a vital role to play.