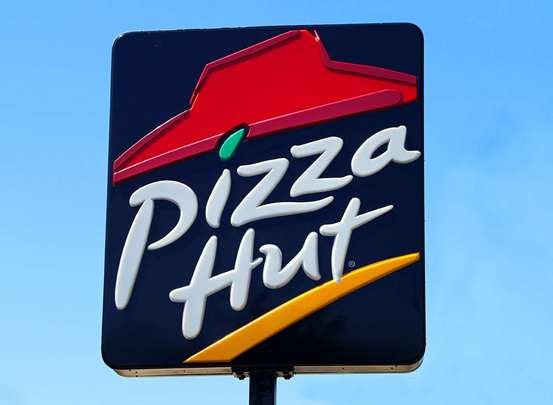 Provided by Eat This, Not That! pizza hut
Pizza Hut is becoming the first major pizza chain to elevate its carryout experience with a feature usually reserved for burger joints. The company announced today that it is launching drive-thru lanes at over 1,500 of its nationwide locations. And that's just the beginning.
The Hut Lane features a new digital order pick-up window that customers can drive up to and get their takeout 'za quickly and efficiently. When ordering through the chain's app, website, and even over the phone, you'll now be able to select the Hut Lane as your pickup option, provided your nearest location is included in the initial rollout.
And in case no Pizza Hut restaurants near you offer the new service, you'll automatically be offered the option of contactless curbside pickup instead, so you can still stay in your car while getting your order. The chain has been doubling down on digital innovations during the pandemic and was the first national pizza brand to offer contactless curbside pickup. The drive-thru lane is the next step in that evolution.
"We are giving our customers a variety of options to optimize their pizza-eating experience as we build on our business momentum," said Nicolas Burquier, the company's chief customer&operations officer. "Not only do we offer industry-leading, innovative menu items that are only available at Pizza Hut, we also offer several digital-first pick-up options for our customers, and The Hut Lane is a great example of that."
Flynn Restaurant Group, which recently took over the ownership of more than 900 Pizza Hut restaurants, plans to prioritize the new drive-thru feature as it remodels the acquired units, so the addition of many more Hut Lanes is expected in the near future, according to the company's press release.
For more on the latest fast-food trends, check out 6 Most Expensive Chicken Sandwiches at Popular Fast-Food Chains, and don't forget to sign up for our newsletter to get the latest restaurant news delivered straight to your inbox.