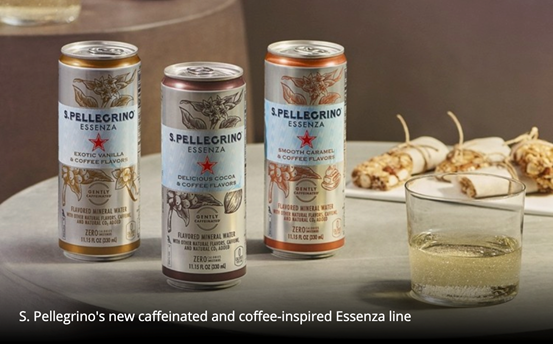 From cold brew tea to coffee-inspired caffeinated water, we take a look at some of the new products hitting the shelves around the globe this month.
S. Pellegrino launches coffee-inspired caffeinated water
S.Pellegrino Sparkling Natural Mineral Water has launched a new line with coffee-inspired S.Pellegrino Essenza (pictured above).
The drinks have 30mg caffeine – around one-third of the amount of a cup of coffee – with zero calories and zero sweeteners.
They come in three flavors: Exotic Vanilla & Coffee flavors, Delicious Cocoa & Coffee flavors and Smooth Caramel & Coffee.
"Taking cues from the ease and delight of Italian coffee bars, the latest innovation for S.Pellegrino Essenza is gently caffeinated, perfect for those who love the taste of coffee to pair with their mid-morning break, or to enhance morning or afternoon snack time moments," says the Nestle brand.
Bottled at the source in Italy, the new products will be available nationwide in the US this spring.
The suggested retail price is $5.99 for an 8-can fridge pack.
The S.Pellegrino Essenza extension originally launched in 2019 with Mediterranean fruit flavors.
Brad Pitt's cold-brewed tea
Co-founded by actor Brad Pitt, LA brand Enroot has launched its line of small-batch, slowly cold brewed, organic sparkling teas.
The brand, co-founded by Pitt, Cristina Patwa and John Fogelman in partnership with the James Beard Foundation, pays homage to Patwa's grandmother and her legacy as a farmer and food entrepreneur in the Philippines.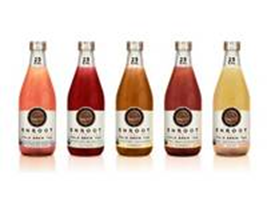 "Enroot beverages are sustainably sourced and flavorfully combine organic teas, fruits and herbals to create a smooth, delicious tasting experience," says the brand.
"The botanically packed blends use only organic teas, herbs, fruits and spices, and a 20-hour cold brew method that honors the rituals of brewing to deliver perfectly extracted flavors and wellness attributes.
"At only 25 calories per bottle – with no added sugar, sweetener or "flavors" – the lineup also offers a variety of clean caffeine options, from caffeine-free to ~ ½ espresso."
The drinks launch this month in select grocers in Southern California and online.
smartwater+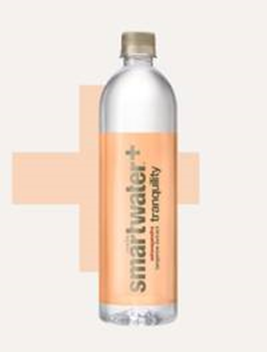 Coca-Cola is launching smartwater+ in the US this month.
The drink comes in three varieties in select grocers and retailers nationwide:
•
smartwater+ clarity, with ginseng and green tea extracts, for those looking to "plus up" moments of mental focus
•
smartwater+ tranquility, with ashwagandha and tangerine extracts, for those looking to "plus up" moments of emotional calmness
•
smartwater+ renew, with dandelion and lemon extracts, for those looking to "plus up" moments of revitalization
Each smartwater+ option contains 10 calories and will be offered in a new 700-ml bottle with a translucent label and champagne-colored text and closure.
"Premium water is a $2.3bn category, with 100% of its growth coming from enhanced waters as consumers embrace an evolving definition of health and wellness, and an expanded role of hydration in their lives," says the brand.
"The smartwater team conducted research to identify the most important wellness routines in core consumers' lives. From there, nutrition scientists determined which ingredients and flavors paired best with a particular wellness occasion, while keeping the pure, crisp taste of smartwater intact."
Vitaminwater looks gutsy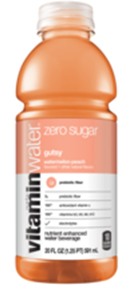 Vitaminwater has launched two new flavors, called look and gutsy. Look is a blueberry hibiscus flavored drink, with vitamin A and lutein to support eye health. Gutsy, meanwhile, is a watermelon peach flavored drink with 5g of prebiotic fiber to aid digestion and help support gut health.
"In a world where consumers are expecting more from the products they use, vitaminwater now offers a wide range of 12 innovative and harder working hydrating solutions with nutrients to address real human needs, such as eye and gut health," says the brand.
Other existing products include vitaminwater rise (with zinc, Vit A and Vit C); zero ice (with chamomile and l-theanine 'for when you need a moment of zen and chill'), refresh (with sodium and potassium for replenishing electolytes), and focus (with Vits b5, b6, b12 and magnesium to help support neurological function).
101 North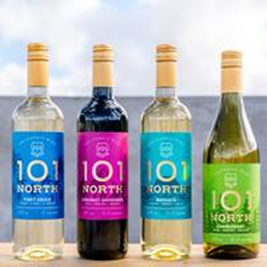 The Wine Group and Anheuser-Busch have launched 'a California wine brand that's designed for adventure': called 101 North.
"I've been a winemaker for 12 years and personally grew up in Northern California right off the 101. These wines are inspired by the adventures that await across California's diverse terrain," said Todd Jenkins, Winemaker for 101 North. "We hope the brand's welcoming and colorful message piques the curiosity of consumers to try our unique blends and explore the wine category."
The 'popular-priced' wine brand is now available nationwide across the US inCabernet Sauvignon, Chardonnay, Pinot Grigio and Moscato.
101 North Wines are available in standard 750ml bottles and 500ml Tetra Paks in the varietals Chardonnay and Pinot Grigio only.
Hoegaarden Peach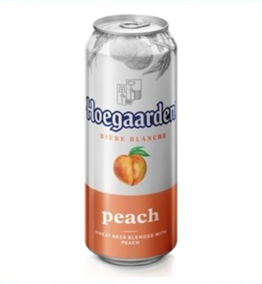 AB InBev is launching the 'first and only' wheat beer to adopt a peach variant in Thailand under the Hoegaarden brand, exclusive to the country and in line with up-and-coming fruity beer trends.
"Our research showed that peach is considered to be a premium fruit here in Thailand which also celebrates Hoegaarden's Belgian heritage of peaches being available in summer markets in Belgium, so we wanted to connect this historical tradition with the festive summer season in Thailand by launching this right before Songkran (Thai New Year) in April," said AB InBev general manager for Thailand, Philippines and Indonesia Dominic Kirk.
"We are the first innovator and only wheat beer brand to adopt this peach variant - to develop this, we embarked on a 100-day innovation plan from ideation to production shipment, using the juice from authentic Baby Gold and Catherine peaches from Europe in this product".
Hoegaarden Peach launches in Thailand on April 1 as 500ml cans with an ABV of 3.0%. All ingredients and processing is similar to that of Hoegaarden Rosee, except that peach juice is used.
Coconut Mocha Style Cold Brew
Rook Coffee is bringing back its Coconut Mocha Style Cold Brew in the US.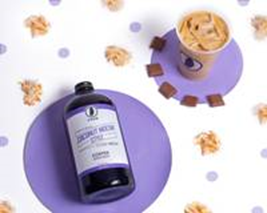 "This seasonal cold brew is completely all-natural, made with
fresh, dark roasted cold brew coffee infused with chicory and
all-natural chocolate and toasted coconut flavors," says the brand.
"Coconut Mocha Style Cold Brew contains no artificial ingredients,
colorings, syrups or added sugar and is reminiscent of coffee meeting your favorite dark chocolate and coconut candy bar. Coconut Mocha Style Cold Brew is enjoyed at its best with dairy or a non-dairy alternative and a touch of sweetener, which highlight the delicious coconut and smooth chocolate flavors. The cold brew concentrate itself is vegan, if a non-dairy alternative is used."

Alcohol-free distillations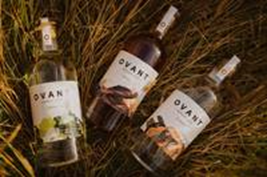 Australian brand Ovant is launching its range of hand-crafted, alcohol-free distillations in the UK.
Each distillation pays homage to the beauty and nature of Margaret River, a place where 80% of the plants are found nowhere else in the world, 'capturing the magic and spirit of the land in every bottle'.
Ovant Grace, Verve and Royal distillations are priced at £26.95 and can be bought online as of this month. Hailing from Margaret River in Western Australia, the brand is already available in Australia and Singapore.
Haig Club Orange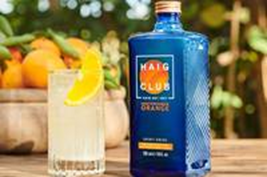 Diageo whisky Haig Club has launched a new Mediterranean Orange spirit to invite non-whisky drinkers into the category.
Haig Club Orange (35% ABV) has "signature scotch whisky notes" - although it is technically a spirit drink rather than a whisky - creating "an accessible option for novice whisky drinkers as well as connoisseurs."
Diageo whisky marketing director Violeta Andreeva said: "We see this as a huge opportunity to recruit a new generation of drinkers as more and more consumers are choosing flavours and sweeter drinks."
The drink can be paired with lemonade over ice and served with a slice of lemon.
It launches in UK supermarkets Waitrose, Asda, Morrisons and Tesco this month with a rsp of £25/70cl.
Copyright © 2021 - William Reed Business Media Ltd - All Rights Reserved.