Asia's largest and the 4th biggest food innovation exhibition in the world, SIAL China 2017 concluded at Shanghai New International Expo Center on May 19th with a record number of visitors, exhibitors and exhibition squares. Altogether, 3,200 exhibitors (+10% vs 2016) presented their latest products and food trends from 67 countries all over the world, attracting 101,134 professionals (+31% vs 2016). This year's SIAL China took place at 13 halls with 149,500 square meters (+18% vs 2016). SIAL China has further deepened its dedication on profession, internationality and commerce.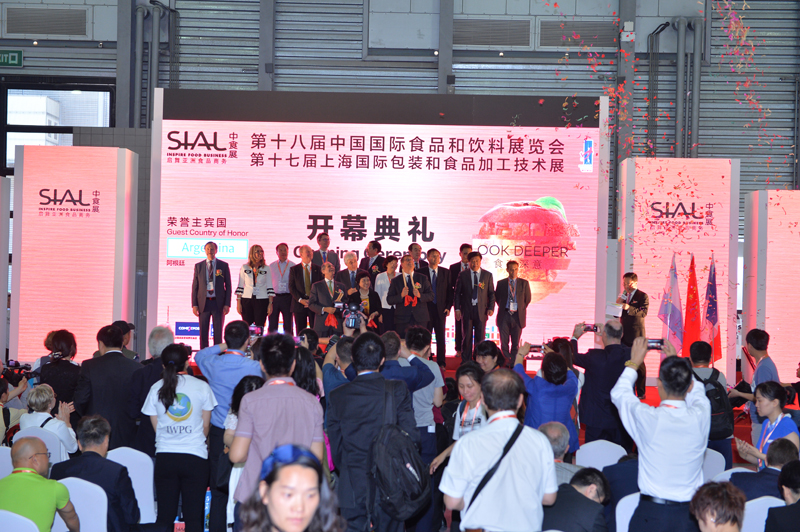 The Opening Ceremony
On May 17th, a delegation of ministers (Argentina, Australia, Czech, Hungary, Lithuania, Russia, and Uruguay), ambassadors, consuls and trade officers participated to the Opening Ceremony of SIAL China 2017.
Most pavilions were represented. China, with Director of China Commerce Development Center, Director of Foreign Economic Cooperation Center of MOA, Chairman of Gansu Commission of CCPIT, Chairman of Heilongjiang Commission of CCPIT, General Manager of China Packaging and Food Machinery Co., Ltd, Deputy Director General of Department of Commerce of Shandong Province, Secretary General of Cold Chain Logistics Committee and Vice President of Chinese Academy of Agricultural Mechanization Sciences.
The Guest Country of Honor – Argentina was represented by Marisa Bircher, Secretary of Agro-industrial Markets and Martin Rivolta, Consul of General of the Argentine Republic in Shanghai. Without forgetting Ms. Andrea Gulyás, State Secretary of the Ministry of Agriculture of Hungary, Mr. György Czerván, State Secretary of the Ministry of Agriculture of Hungary, Mr. Evegeny Nepoklonov, Ministry of Agriculture of the Russian Federation, Mr. Aguerre Tabaré, Minister of Ministry of Livestock Agriculture and Fisheries of Uruguay, Mr. Arturas Bagotyrius, General Deputy Director of State Enterprise Lithuanian Agricultural and Food Market Regulation Agency, The Honorable Martin Hamilton-Smith, Minister for Investment and Trade of South Australian Government, Australia, The Honorable Philip Dalidakis, Minister for Small Business, Innovation and Trade of Victorian State Government, Australia and Ms Viera Šedivá, Vice Minister of Agriculture of the Czech Republic; and Ambassadors and Consul Generals of Bulgaria, Chile, Colombia, Costa Rica, Czech, France, Finland, Greece, Hungary, Lithuania, Mexico, the Netherlands, Poland, Russia, Spain, Ukraine and many more.
Argentina - Guest Country of Honor
As the Guest Country of Honor at SIAL China 2017, Argentina's pavilions have covered more than 1,200 sqm at E3 and E7, showcasing products that will receive increased exposure to Chinese and international professional visitors. China is the second largest export market for Argentine agricultural products, and SIAL China has witnessed strong interest in Argentine products at prior exhibitions. On May 18th, Mr. Mauricio Macri, President of Argentina came visiting SIAL China. On the same day, Argentine exhibitors and SIAL China's BAB service platform signed an agreement which will enable 5,000 tons of Argentine beef to be exported to China in the near future.

Discover the key trends to inspire Asia's food business with SIAL China's events

The jewelry on the crown of SIAL Network - SIAL Innovation took off its veil from day one. 212 innovative products were selected by an independent jury displayed great experience and commitment, of which 10 were further rated as the finalist products for their contributions to innovate pleasure, health, physical, convenience and ethics for food product. These 10 products all touched on development important to Asian food industry.
This year the Gold Award went to SAPMER from Mauritius for its Sashimi Tuna Filet; the Silver Award was awarded to San Remo from Australia for its San Remo Pulse Pasta Spaghetti; the Bronze Award went to SILK from China for its Silk Original Skinned Walnut.
SIAL Innovation has long since been considered as the guide for most edge-cutting products exhibited at SIALs. Right after the unveiling of winner list, the stand of Gold Award winner was inundated with distributors and importers requesting for business cooperation.
La Cuisine – 4th edition 2017 China International Top Chefs Invitational Competition by SIAL
La Cuisine was endorsed by World Association of Chefs Societies (WACS) for its 4th year and organized 8 teams from Korea, Malaysia, Spain, Beijing, Dalian, Shanghai, Taiwan and Xiamen to compete for the champion. Each team consisted of 3 highly-skilled chefs and was required to complete themed dishes on-site. After 2 rounds of multiple themes, the Taiwan team topped all the other teams and won the honor of "Top Chef" with great acclaim.
Meanwhile Guest Country of Honor Argentina presented the cooking demonstrations with their quality beef and ingredients at La Cuisine.
The 6th edition of Retail & Hospitality Forum sparkled with the intuitive insights and accurate analysis shared by all-star speakers. The world's largest online and mobile marketplace Alibaba, XTC World Innovation, consultants and experts from PWC, Euro Monitor, Marine Stewardship Council and many more delivered speeches on the latest hot topics including food sustainability, import and export policy, food innovation, e-commerce and market trends.
In the 2017 edition, partnered with Nielsen, World Tour helped all the exhibitors and visitors to understand the specific characteristics of the food market by geographic area. 27 billboards featured confidence index and the information to define the retail strategies, from Australia to Canada, from Brazil to Russia, the United States, United Kingdom and China were all displayed.
As soon as the first speaker opened the forum on May 17th, this event became the spotlight in the wine sector. Mr. Tim Wildman MW joined us this year again as the Keynote Speaker and led a star studded line-up including Mr. Barry Dick MW, Sommelier Nikhil Agarwal and many more. 16 sessions were held and gathered 1,200 people on-site. Besides introducing wine from Australia, China, France, Germany, India, the US and Spain, in additionally the 2017 edition has also discussed and shared thoughts and ideas about wine supply chain building up and industry resources integrating. Wine Innovation Forum once again brought new perspectives to wine professional visitors on its understanding of wine business.
SIAL Best Buy China Competition
In partnership with WINE100 - one of the most professional and influential wine rating agencies in China, Best Buy China Competition brought an effective platform to showcase exhibitors' star products.
On May 17th, a panel of 8 judges including: trade buyers, wine educators and MW had performed a blind tasting of the wines & spirits submitted by SIAL CHINA 2017 wine exhibitors. The Jury was presided by Tim Wildman MW. This year, 40 exhibitors submitted their wines for Best Buy China Competition and 6 Best Buy Awards were awarded.
In the presence of Mr. Nicolas Trentesaux - Managing Director SIAL Network, Martin Rivolta - Consul of General of the Argentine Republic in Shanghai, Mr. Tim Wildman – MW and all the VIPs of SIAL China, the awards ceremony took place on May 18th during After SIAL Party. More than 400 officials, VIPs and exhibitors from the industry attended the ceremony, witnessing the long-awaited winner list for Best Buy China Competition.
China National Specialty Tea Brewers Cup
Endorsed by Café Culture and Australasian Specialty Tea Association (AASTA), this event honored traditions with brewing skills and carry on tea innovations by organizing competitions.
After 3 days contest, Mr. Bochuan Yu, Mr. Andy Liu and Mr. Yongxiang Ou have won the first, second and third place.
7 sessions have been successfully held within 3 days at the 6th edition of Chocolate World, including The International KamCha Competition. This is the first time it has been held at SIAL China as one of the official celebration events for the 20th anniversary of the Hong Kong Special Administrative Region, and it is also the kick off competition of the International Kamcha Competition 2017. Main sponsors, Murray River Organics and Pernigotti brought incredible shows on-site. Pernigotti's product introduction pushed forward the happiness generated by the fantastic taste after a violin show. On the third day, Mr. Jun YANG from Beijing Parkview Wuzhou Hotel and Mr. Dong LI from the Opposite House Hotel brought a chocolate top chef table.
The 5th edition of Seafood Fest' – Right Seafood Right Wine was held together by China Aquatic Products Processing and Marketing Alliance (CAPPMA), Global Aquaculture Alliance (GAA), Marine Stewardship Council (MSC) and Norwegian Seafood Council (NSC). With sessions dedicated to introduce the "right seafood" associate with "right wines", Seafood Fest' exalted the palate with gourmet food products.
MSC hosted an event themed "MSC sustainable selection--trace to the source of seafood to the fishery" promoting sustainable seafood. Besides focus on promoting GFC Rock Lobster as representative seafood from western Australia, other seafood such as snow crab, scallop and arctic cod also exhibited during the event.
Landmark Biorigo
Another special highlight for SIAL China 2017 is the Landmark Biorigo Exhibition at E7 hall, where the famous Chinese and international special food originating from protected destinations have been showcased. Unique Chinese and international original brands, representing regional culture and history, could be found there for domestic and global visitors.
After SIAL Party
On May 18th, After SIAL Party took place at Sasha's, which was built in 1921 and the former home of T.V. Soong. The Soong sisters often stayed at the residence and they and their husbands were amongst China's most significant political figures of the early 20th century. With a fantastic combination of selected wines, gourmet food and lively vibe, over 400 VIP exhibitors and VIP buyers celebrated the great success of SIAL China. In additionally, the awarding ceremony of SIAL – Best Buy China Competition also came on board.

With over 31% increase in the number of visiting professionals, SIAL China boomed Asia's food and beverage market with a resounding success. SIAL China truly lives up to its expectation as Asia's largest food innovation exhibition that leverages the food trade between Asia and the rest of world more over the number.
For more on-site photos for SIAL China 2017 and each event, please go to https://1drv.ms/f/s!AkzXZ7-hppNBik20rb3aUxXdbkDl
Save the date
Next year, SIAL China will be held from 16th to 18th May 2018. Please stay tuned with us and "look even deeper" for new market drivers and innovations for the next year.
SIAL China 2017 Overview
- 3,200 exhibitors (+10% vs 2016) from 67 countries
- 101,134 professionals (+31% vs 2016)
- 149,500 sqm (+18% vs 2016)
- 21 product sectors including meat, dairy, wine, beverage, food and more…
SIAL CHINA 2018
16 - 18 May, 2018
Shanghai New International Expo Centre
www.sialchina.com
Join us on:

www.facebook.com/SIALChina


www.twitter.com/SIALChina


www.linkedin.com/groups/SIAL-CHINA-3753291

SIAL China WeChat


SIAL China Weibo
About SIAL China
SIAL China is an integral part of the SIAL Network, the world's largest network of food and drink fairs. Its 8 regular shows (SIAL Paris, SIAL Canada Montreal and Toronto, SIAL China, SIAL Middle East, SIAL ASEAN Manilla, SIAL InterFOOD in Jakarta and Gourmet Selection) bring together 14,195 exhibitors and 327,400 visitors from 194 countries.
About Comexposium
The COMEXPOSIUM Group, one of the world's leading event organisers, is involved in more than 170 B2C and B2B events across 11 sectors, including food, agriculture, fashion, security, digital, construction, high-tech, optics and transport. Comexposium hosts more than 3 million visitors and 45,000 exhibitors in 26 countries around the world. Comexposium operates across 30+ global economic growth zones, such as: Algeria, Argentina, Australia, Belgium, Brazil, Canada, China, France, Germany, India, Indonesia, Italy, Japan, Korea, Monaco, Netherlands, New Zealand, Philippines, Qatar, Russia, Singapore, Spain, Thailand, Turkey, U.A.E., U.K., and the U.S.